2023-2024 Tryout Information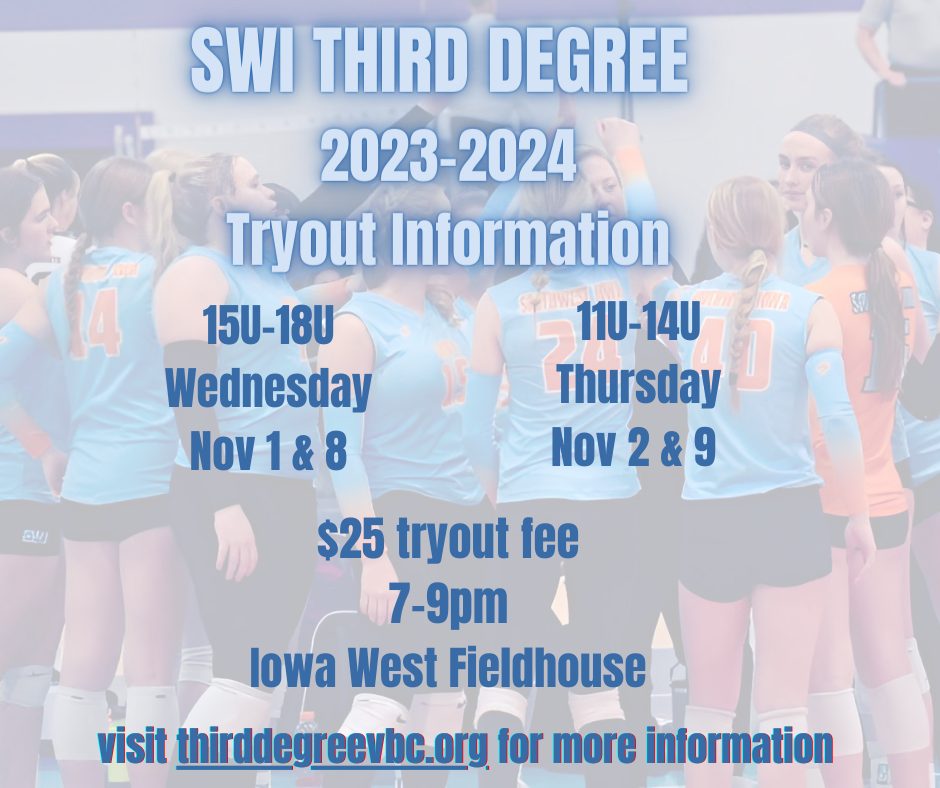 2023-2024 Tryout Information
Location:
Iowa West Field House
5 Arena Way
Council Bluffs, IA
Cost:
$25/player
Payable day of tryout by cash, check, credit card, or VENMO
(feel free to send VENMO ahead of time. Please include athlete's name and Tryout Fee in the notes section)
Tryout Times/Dates:
Registration will begin at 6:15
Please complete google form PRIOR to arriving- (link below)
https://forms.gle/hSA3Zro6fxgPGbEFA
Tryouts will run from 7-9
Wednesday 11/1
Thursday 11/2
Wednesday 11/8
Thursday 11/9
USAV AGE DEFINITION CHART- https://usavolleyball.org/wp-content/uploads/2023/06/2023-24-Age-Definition-Chart-Only.pdf
Team Selection
Parents will be notified of team placement by email once tryouts have been completed. Please make sure the email address is entered correctly on the google registration form. 
If your athlete is not selected for a team they will be put on the waitlist and if a spot becomes available we will notify you via email.
Club FAQ's
Fees for 2023-2024: Due in full by 1st tournament.
$950/player
$50 discount for multiple athlete families.
Fees include:
2 competition jerseys

1 pair of spandex

Practice Shirt

Warm Up Jacket

Practice + Tourney + Coaches fees included 
Practices: All practices are at the Iowa West Field House 7-9pm
15U-18U practice on Wednesdays 
11U-14U practice on Thursdays 
Tournaments: 
All teams will play in a minimum of 8 tournaments in the Omaha metro area. 
Travel: 
May be an option per individual team/coach.
 Qualifier tournaments and additional travel may be subject to additional cost.